Features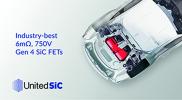 A New Approach to Circuit Breaker Design Using Silicon Carbide Switches - Nov 21
Mechanical circuit breakers can be low cost with minimal losses, but they operate slowly and wear out. Solid state versions overcome the problems and are becoming increasing viable as replacements at...
More details...
Power Electronics Europe News
Transceiver has integrated DC/DC regulator for surge protection
Claimed to be the smallest
and most power-efficient dual-driver IO-Link transceiver to date, the MAX22513 is three times smaller and with four time lower power dissipation, claims the company.
It is designed for industrial IO-Link sensors and actuator devices, to meet the demands of industry 4.0 for smarter, sensor and actuator devices which are smaller and more robust, while dissipating less power.

Integrated surge protection and reverse polarity ensure robust communications in harsh industrial environments to speed up the design process, says the company. All four IO pins are reverse-voltage protected, short-circuit protected and feature ±1kV/500Ω surge protection. The company adds that integrated surge protection eliminates four TVS diodes compared to its earlier transceiver solution.
The IC operates over the -40 to 125°C range and is available in both a 28-pin QFN package (measuring 3.5 x 5.5mm) and a WLP (measuring 4.1 x 2.1mm).


The MAX22513EVKIT# evaluation kit and MAXREFDES171# reference design are also available.
View PDF