Features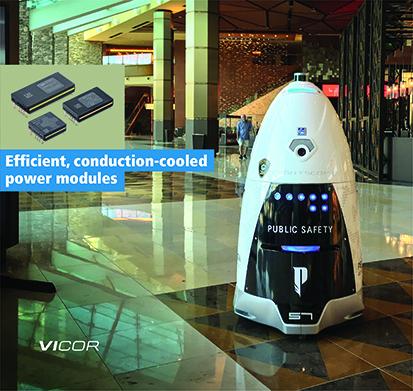 Knightscope's autonomous security robots patrol with superhuman acuity and detection prowess - May 2023
A fusion of innovative robotics, self-driving technology, vehicle electrification and artificial intelligence
More details...
AC/DC power factor correction module offers up to 1,512W
A full brick package developed by TDK-Lambda, the PF1500B-360, is for high voltage distributed power architectures
More details...
Power Electronics Europe News
Two EiceDRIVER X3 Enhanced families increase design flexibility and reduce hardware complexity...
Omron Electronics Components Europe unveils the G2RG-X 500VDC relay aimed at pre-charge circuits in high current DC applicati...
The ISL73141SEH is a single-chip 14-bit, 1MSPS, successive approximation register (SAR) ADC for rad-hard applications....
Four devices based on UnitedSiCís Gen 4 SiC FET technology enable new performance levels, says the company....
Power rail stabilisation in tight spaces is enhanced with low noise LDO voltage regulators says Toshiba Electronics Europe...
SVR and VR non-isolated DC/DC switching regulators by XP Power replace low efficiency linear regulators. ...
Vox Power has produced a tiny 300W single output power supply, qualified for medical systems....
A fast switching 600V αMOS5 super junction MOSFET from Alpha and Omega Semiconductor (AOD) is in a TO-leadless (TOLL) package...
A family of radiation-hardened (rad-hard) GaN transistors have high performance parameters for spacebourne applications, says EPC Space....
Registration is now open for a virtual keynote event for suppliers and innovators across EMEA to be held Thursday 19 November...