Features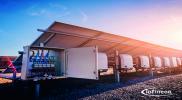 Benefits of CoolSiC MOSFETs in Bi-Directional Inverter Applications - July 2021
With the move to renewable energy, there is an increased focus not only on generation but also storage, to make the most of the intermittent supply from wind and solar. Batteries are the common...
More details...
Power Electronics Europe News
Transistors from STMicroelectronics are efficient in medium-power resonant and hard-switching converter topologies...
Claimed to deliver industry-leading TCR characteristics, Rohm introduces high power wide terminal thick-film chip resistors....
An eight-channel level shifter from Diodes allows inter-IC communications for devices operating on different voltage rails....
To reduce footprint and simplify brushless DC (BLDC) motor designs, Allegro MicroSystems Europe offers the AMT49105....
Chassis-mount and IEC inlet EMI filters from XP Power enable equipment to conform to EMC emission and immunity standards...
Dual- and single-channel battery monitoring system isolation transformer modules from Bourns are available from RS Components...
The Recom RBB10 buck-boost converter has all-round shielding to enhance thermal performance and prevent EMI. ...
Designed for smart automation and automotive modules, the LDO40L is a low dropout regulator from STMicroelectronics....
The UF3C Fast FET series now includes 650 and 1200V silicon carbide (SiC) FETs in a TO-247-4L four-pin Kelvin Sense package. ...
Micropower Hall-effect switch ICs from Allegro MicroSystems Europe have automatic power management to optimise battery life....