Features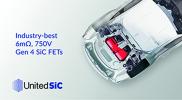 A New Approach to Circuit Breaker Design Using Silicon Carbide Switches - Nov 21
Mechanical circuit breakers can be low cost with minimal losses, but they operate slowly and wear out. Solid state versions overcome the problems and are becoming increasing viable as replacements at...
More details...
Power Electronics Europe News
Isolated RS-485 module doubles efficiency for Industry 4.0
In a package, 35% smaller than competitive solutions, the 2.5kV isolated RS-485/RS-422 module transceiver is claimed to simplify and shrink the design of field bus communications systems for factory automation, motor control and other industrial IoT applications.

It is the first in a family of isolated communications ICs to simplify field bus communications system designs. The integrated module eliminates the need for discrete digital isolators, transceivers, transformers and transformer drivers while also reducing bill of materials.

The transceiver supports 25Mbits/s data rates while providing 60% DC/DC efficiency and a ±35kV electrostatic discharge protection. The module is available in a land grid array (LGA) package (9.35 x 11.5mm).
Isolation of 2.5kV rms supports communication across the isolation barrier to ensure safe operation of industrial equipment. The module reduces electromagnetic interference (EMI) and electrostatic discharge (ESD) protection for human body model, or HBM.
The MAXM22511EVKIT# evaluation kit is also available.
View PDF