Features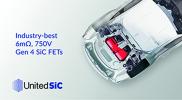 A New Approach to Circuit Breaker Design Using Silicon Carbide Switches - Nov 21
Mechanical circuit breakers can be low cost with minimal losses, but they operate slowly and wear out. Solid state versions overcome the problems and are becoming increasing viable as replacements at...
More details...
Power Electronics Europe News
Evaluation board simplifies upgrading wireless sensor operation
The evaluation board for the 3.3V R-78S boost converter makes small battery-powered wireless devices run for longer, says the company.
The R-78S3.3-0.1-EVM-1 evaluation board maximises run-time by generating a regulated 3.3V output as the battery discharges down to 0.65V. There are also test points for measuring load current and voltage which help predict an application's run-time in active and standby modes. The evaluation board has a holder for a 1.5V AA battery, which can store more energy than the coin cells often used to power IoT modules. The company claims that combining the extra battery energy, run-time predictability, and the R-78's low-voltage boost, allows the board to help developers "significantly extend" the operating window of battery powered devices like wireless sensors.
The distributor also stocks the R-78S3.3-0.1-EVM-1/STM-1 breakout board for connecting the R-78S evaluation board to STMicroelectronics' SensorTile module, which combines MEMS inertial sensors, pressure, temperature, and humidity sensors, and a digital microphone, with a Bluetooth Low Energy (BLE) radio module. When connected via the breakout board, the evaluation board enables the sensors and radio to operate and stay connected far longer than if running from the original coin cell, claims the company, which also supplies the R-78S3.3-0.1-EVM-1/SBL-1 board for the Arrow SensiBLE IoT wireless sensor module.
The company can also supply the compact, integrated R-78S boost converter for volume production, when customers' projects are ready. The converter can also be supplied with a 1.8 or 3.6V output to power Bluetooth or LoRaWAN transmitters.
A reference design board, the R-REF02-78S, is also available for IoT development.
The evaluation board and sensor-module breakout boards are in stock now.
View PDF