Features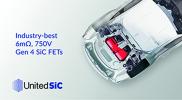 A New Approach to Circuit Breaker Design Using Silicon Carbide Switches - Nov 21
Mechanical circuit breakers can be low cost with minimal losses, but they operate slowly and wear out. Solid state versions overcome the problems and are becoming increasing viable as replacements at...
More details...
Power Electronics Europe News
IC integrates low IQ power management
The Power by Linear IC manages power for systems that require multiple low voltage outputs generated from an input voltage up to 60V. It features a 60V synchronous buck switching regulator controller and four configurable synchronous monolithic buck regulators. This combination provides up to five high efficiency low quiescent current outputs in a single IC, for automotive, industrial and medical applications.
The IC's buck controller operates over a 4.5 to 60V input range and drives an all N-channel MOSFET power stage. Output can be programmed to either 3.3 or 5.0V and can generate an output current up to 20A. The controller output is typically used to feed the four monolithic buck regulators. Each monolithic buck channel can be programmed to regulate an output voltage as low as 0.8V with a configurable output current up to 4.0A. Eight 1.0A integrated power stages are programmed by the C1 to C3 pins into one of eight configurations, from a quad 2.0A buck to a dual 4.0A buck. This allows only one inductor per channel.
The low IQ IC is suitable for battery-powered or automotive applications in which one or more power supply rails are always on. With just the high voltage controller enabled, the device draws 15µA from a 12V input supply while regulating the output to 5.0V at no load. Each monolithic buck regulator adds only 8µA of additional IQ per channel enabled. The monolithic buck switching frequency can be programmed from 1.0 to 3.0MHz and can be synchronised to an external clock; the buck controller switches at 1/6 of this frequency. Other features are foldback current limiting, soft-start, short-circuit protection and output over-voltage protection.
The IC is available from stock in a thermally enhanced 48-pin 7.0 x 7.0mm QFN package with temperature grades E and I grades (-40 to 125°C), and an H grade (-40 to 150°C).
View PDF