Features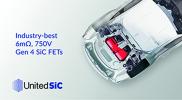 A New Approach to Circuit Breaker Design Using Silicon Carbide Switches - Nov 21
Mechanical circuit breakers can be low cost with minimal losses, but they operate slowly and wear out. Solid state versions overcome the problems and are becoming increasing viable as replacements at...
More details...
Power Electronics Europe News
High current photo relays minimise operating losses
The TLP3553A and TLP3555A relays feature off-state output terminal voltage ratings of 30 and 60V, and on-state continuous current ratings of 4.0 and 3.0A, claimed to be higher than previous generation products. When operated in pulsed mode, the current ratings increase to 9.0A for both devices.
Typical applications are industrial equipment (PLCs, I/O interface, sensor controls), building automation systems (heating, ventilation and air conditioning or HVAC), security equipment and replacing mechanical relays.
The TLP3553A features a low on-state resistance of just 50mΩ (maximum) which is less than a typical mechanical relay (about 100mΩ), says the company. This ensures that operating losses are kept to a minimum when the device is used to replace mechanical relays such as 1-Form-A, commonly used in industrial applications. The photo relays are rated for operation at temperatures between -40 and 110°C.
Both photo relays are provided in a DIP4 package both with and without surface mount option. As well as improving system reliability, the photo relays are physically smaller than a mechanical relay, and no additional driver is required, meaning that both space and weight is saved when replacing a mechanical relay with a photo relay.
Both devices are now shipping in production quantities
View PDF