Features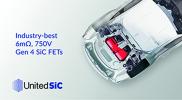 A New Approach to Circuit Breaker Design Using Silicon Carbide Switches - Nov 21
Mechanical circuit breakers can be low cost with minimal losses, but they operate slowly and wear out. Solid state versions overcome the problems and are becoming increasing viable as replacements at...
More details...
Power Electronics Europe News
DC/DC converter adds some MagI3C
There are two modules released, 1.0 and 3.0A. Both have an adjustable output voltage in the low range of 0.8 to 6.0V.
Integrating a power stage, regulator and inductor in a robust package, the latest addition to the power module range has an input voltage range of 6.0 to 42V to allow conversion from the 9.0, 12 or 24V industry bus.
The robust modules can be operated at an ambient temperature up to 105°C and are characterised by high efficiency up to 97%, says the company.
The TO263-7EP package is described as easy-to-solder and measures 10.16 x 13.77 x 4.57mm.
The two newest modules and existing modules in the family are available from stock. Free samples can be requested.
View PDF