Features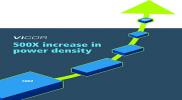 Innovating Power Module Packaging - April/May 21
A systemís power delivery network or PDN is made up of passive and active components such as cables, connectors, AC-DC and DC-DC converters and regulators. As power levels increase to enable new
More details...
Power Electronics Europe News
Quad power supply sequencers drive PoL regulators for FPGA power rails
The sequencers are designed to drive PoL regulators that power high performance FPGAs and complex, multi-rail power systems.
They are scalable, with up to four power supplies being able to be fully sequenced by a single device. Alternatively, multiple devices can be cascaded to sequence an unlimited number of power supplies. The power supply sequencers ensure high reliability operation with fault monitoring to boost system health and performance, and they are claimed to be the industry's first space-grade sequencers backed by single event effects (SEE) mitigation tests and complete radiation assurance testing.
The ISL70321SEH sequencer is radiation assurance tested to 100krad (Si) at high dose rate and 75krad (Si) at low dose rate. The ISL73321SEH is assurance tested to 75krad (Si). Both sequencers provide an accurate and scalable method to achieve the proper power-up and power-down sequencing of DC/DC converters essential to powering FPGAs, DSPs, RF communications ICs, and high density distributed power systems. According to Intersil they simplify design by using minimal external components, only requiring two resistors per power supply for voltage monitoring, and a single resistor to program the rising and falling delay.
The integrated sequencers provide critical reliability features, and replace discrete solutions that employ several comparators, resistors, and capacitors, to save bill of materials cost. To ensure accurate monitoring and reliable system operation, the radiation-hardened ISL70321SEH and ISL73321SEH integrate precision input comparators with an input threshold voltage of 600mV ±1.5% to deliver the highest possible accuracy when monitoring power supply voltages. Both devices actively monitor seven different fault conditions to provide comprehensive fault detection, and a 'done' indicator gives system feedback that power-up and power-down have completed successfully.
Operating voltage ranges from 3.0 to 13.2V and operates over the full military temperature range operation of TA of -55 to 125°C, TJ of -55 to 150°C.
The regulators can be combined with the company's ISL70002SEH 12A synchronous buck regulator, ISL70001ASEH 6A synchronous buck regulator, and ISL75052SEH 1.5A LDO regulator ICs to create a complete power-up and power-down PoL sequencing solution for FPGAs.
The radiation-hardened ISL70321SEH and rad-tolerant ISL73321SEH quad power supply sequencers are available now in an 18 lead 10 x 12mm CDFP package or in die form.
View PDF