Features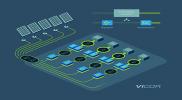 Factorized Power Accelerates Coral Reef Restoration -issue 3/2020
According to the latest figures over 70% of the world's coastlines are eroding, with 200 million people worldwide reliant on the protection that coral reefs offer. With 99% of remaining reefs...
More details...
Linear voltage regulators operate at automotive temperatures
Designed for high reliability, high temperature applications, the CMT-Antares is Cissoid's latest regulator.
More details...
Power Electronics Europe News
Suitable for low power applications, the LinkSwitch-XT2 offline converter ICs have been announced by Power Integrations....
Two N-channel MOSFETs for load switches deliver low on-resistance for battery-operated portable applications....
Linear Technology announces the LTC3897 multi-phase synchronous boost DC/DC controller with input surge stopper....
Dengrove Electronic Components extends its portfolio of EN50155-compliant DC/DC converters, introducing the Recom RPA120H-RW....
Encapsulated power supply modules with high efficiency and a low no load input power have been announced by XP Power....
To increase convenience and reduce waste, the IEC has announced a smart charging solution that allows chargers to be re-used....
Zener diodes, optimized by Rohm, offer protection and constant current in a variety of electrical circuits....
Enhanced radiation hardened MOSFETs for mission-critical applications have been released by IR HiRel....
Switching regulators from Recom, the R420-1.8/PL series, are specifically for microprocessors from 4.0 to 20mA lo loop....
The CCG15 series from TDK-Lambda are in a metal case to provide six-sided shielding to reduce EMI radiation...