Features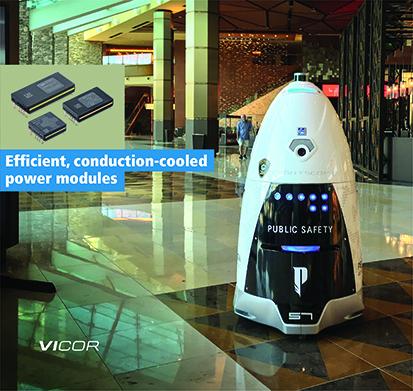 Knightscope's autonomous security robots patrol with superhuman acuity and detection prowess - May 2023
A fusion of innovative robotics, self-driving technology, vehicle electrification and artificial intelligence
More details...
AC/DC power factor correction module offers up to 1,512W
A full brick package developed by TDK-Lambda, the PF1500B-360, is for high voltage distributed power architectures
More details...
Power Electronics Europe News
TVS diode arrays protect 10GbE differential data lines
Low capacitance TVS diode arrays (SPA diodes) are optimised to protect high-speed differential data lines from electrostatic discharge (ESD), cable discharge events (CDE), electrical fast transients (EFT), and lightning-induced surges. The SP3384NUTG diodes have 0.5pF per I/O capacitance and low clamping voltage of 4.0V at lpp of 1.0A to preserve signal integrity for reliable network communications, says the company.
The diodes can protect up to four channels (two differential data pairs) against up to 15A (IEC 61000-4-5 second edition) and up to ±30kV ESD (IEC 61000-4-2). They are supplied in a compact μDFN package which measures 3.0 x 2.0mm.
According to the company, the combination of low capacitance and low clamping voltage make the diode arrays robust protection for 2.5G, 5G and 10G Ethernet high-speed data interfaces without signal degradation.
Typical applications are in data centres and telecommunications, where they can be used for Ethernet, wide area network (WAN) and local area network (LAN) equipment and 5G wireless backhaul. They are also suitable for industrial markets, in integrated magnetics and LVDS interfaces and in consumer desktops, servers and notebooks.
The SP3384NUTG 3.3V 15A Series is provided in tape and reel format. Sample requests can be placed through authorised Littelfuse distributors worldwide.