Features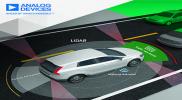 Powering the future of Autonomous driving - issue 4/2019
Analog Devices announced mid July a collaboration with First Sensor AG to develop products aimed at speeding the launch of autonomous sensing technology serving unmanned automotive, aerial and...
More details...
Linear voltage regulators operate at automotive temperatures
Designed for high reliability, high temperature applications, the CMT-Antares is Cissoid's latest regulator.
More details...
Power Electronics Europe News
The LT3089 has an extended safe operating area (SOA) compared to existing regulators to alleviate output limits....
Configuration via a digital interface allows the PMBus SupIRBuck voltage regulator to reduce design and test time....
A 1.3nJ/b digital polar transmitter, optimised for IoT applications and the IEEE 802.11ah Wi-Fi protocol is unveiled....
Two high power DC/DC converters from Ideal Power are for domestic, industrial, architectural and automotive LED lighting....
The EPC9059 development board from Efficient Power Conversion (EPC) demonstrates how eGaN technology in PoL converters....
RKZ DC/DC converters from Recom are available through Dengrove Electronic Components, which introduces a 24V input option....
A power conversion module combining the functions of a rectifier, an inverter and a "static transfer switch" in one box ...
Constant power output profile through adaptive-voltage protocol...
Pulse Oximeter and Haert Rate Sensor for vital-sign monitoring...
Extended range switching regulators from Recom are available from Dengrove Electronic Components....