Features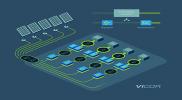 Factorized Power Accelerates Coral Reef Restoration -issue 3/2020
According to the latest figures over 70% of the world's coastlines are eroding, with 200 million people worldwide reliant on the protection that coral reefs offer. With 99% of remaining reefs...
More details...
Linear voltage regulators operate at automotive temperatures
Designed for high reliability, high temperature applications, the CMT-Antares is Cissoid's latest regulator.
More details...
Power Electronics Europe News
Able to deliver over 100mA, via two adjustable power rails, the LTM2887, is a six-channel isolator from Linear Technology...
The isolated, regulated DC/DC converters operate from an unregulated, wide range input to generate an isolated DC output...
Additions to its railway portfolio means that Recom offers the broadest range of EN50155-certified products, says the company...
Multi-anode, polymer, surface-mount chip capacitors make up the T59 vPolyTan series from Vishay Intertechnology. ...
The LED professional Symposium Expo (LpS) 2017 will emphasize "Smart Technologies for Lighting Innovations"....
AC/DC power supplies from Recom are for medical applications. The RACM range is available from Dengrove Electronic Components...
The AOK40B65H2AL, improves high-speed switching applications, claims Alpha and Omega Semiconductor....
The compact TAS6424-Q1 four-channel amplifier from Texas Instruments, enables high-fidelity audio with low distortion....
Offered in a QFN32 package, the TB62269FTAG is a compact, high-resolution 40V, 1.8A motor driver, from Toshiba Electronics...
The 19th European Conference on Power Electronics and Applications will be held in WARSAW from 11 - 14 Sept. 2017...