Features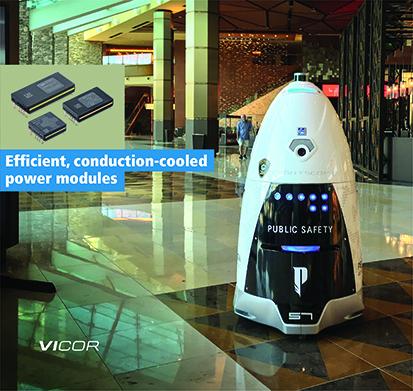 Knightscope's autonomous security robots patrol with superhuman acuity and detection prowess - May 2023
A fusion of innovative robotics, self-driving technology, vehicle electrification and artificial intelligence
More details...
AC/DC power factor correction module offers up to 1,512W
A full brick package developed by TDK-Lambda, the PF1500B-360, is for high voltage distributed power architectures
More details...
Power Electronics Europe News
Ground sense comparators resist EMI for automotive design
The comparators are claimed to be an industry-first and enable high reliability and simpler designs of automotive systems, delivering tolerance against EMI (noise resistance) for sensor applications in automotive systems. They can be used in engine control units (ECUs) and vehicle powertrain systems.

The company has introduced them to meet the changing needs of vehicles, which use increased levels of computerisation and densely packed electric devices which increases the noise in electric vehicles (EVs) and cars equipped with advanced driver assistance systems (ADAS). The noise performance of boards and systems is evaluated after assembly which is a very lengthy and costly process that might require several iterations, advises Rohm.

The noise-tolerant operational amplifiers can reduce the design resources needed to implement measures against noise, says the company. They achieved superior noise tolerance when used as comparators to determine the threshold value of sensor output signals, says the company. Rohm reports. Output voltage fluctuation is within ±1% across the entire noise frequency band when testing according to the ISO11452-2 standard. Conventional comparators usually have output voltage fluctuations of up to ±20%. They are qualified to AEC-Q100 and can reduce current consumption (0.6mA versus 0.8mA) and offset voltage (±5mV versus ±7mV) compared to conventional products, claims the company.
The comparators are available in a variety of common surface mount packages and channel counts with standard comparator pin layout.
View PDF