Features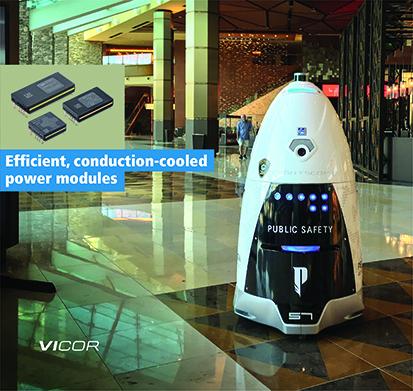 Knightscope's autonomous security robots patrol with superhuman acuity and detection prowess - May 2023
A fusion of innovative robotics, self-driving technology, vehicle electrification and artificial intelligence
More details...
AC/DC power factor correction module offers up to 1,512W
A full brick package developed by TDK-Lambda, the PF1500B-360, is for high voltage distributed power architectures
More details...
Power Electronics Europe News
The RE family of microcontrollers is based on the proprietary Silicon on Thin Buried Oxide (SOTB) process technology, which reduces power consumption in both the active and standby states and eliminates the need for battery replacement or recharging.
Developers using the RE01 devices can jump start evaluation for systems for energy harvesting applications using the RE01 Group evaluation kit. Energy harvesting contributes to environmental conservation, says the company, adding that the evaluation kit is designed to accelerate the spread of IoT equipment powered by energy harvesting.
The kit includes an evaluation board with an RE01 embedded controller, an interface for the energy harvesting device and a rechargeable battery interface. The kit also includes an Arduino-compatible interface to evaluate sensor boards and a Pmod connector to expand and evaluate wireless functionality. There is also a low power memory in pixel (MIP) LCD expansion board so that users can evaluate display functions faster. The kit also contains sample code and application notes that serve as references for power management design that eliminates the need for battery maintenance and driver software that supports Arm's Cortex Microcontroller Software Interface Standard (CMSIS). Sample code for low power ADCs, digital filter and FFT routines, 2D graphics MIP LCD displays and secure boot and secure firmware update functions for improved security are available.
IAR Embedded Workbench for Arm and e2 studio development environments are available.
The RE01's 32-bit CPU core enables users to implement intelligent functions in equipment powered by low levels of harvested energy through ambient energy such as light, vibration, or fluid flow.
The embedded controllers are based on the Arm Cortex-M0 core which can operate at up to 64MHz and provide up to 1.5Mbyte of low power flash memory and 256kbyte of SRAM.
Three package versions, a 156-pin WLBGA package, a 144-pin LQFP and a 100-pin LQFP are available.
View PDF