Features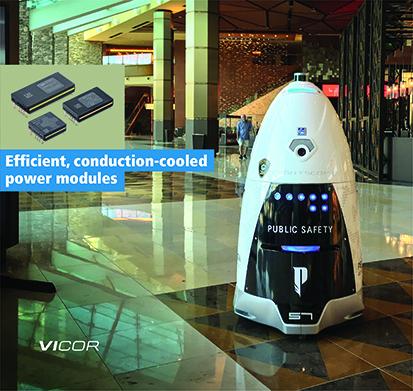 Knightscope's autonomous security robots patrol with superhuman acuity and detection prowess - May 2023
A fusion of innovative robotics, self-driving technology, vehicle electrification and artificial intelligence
More details...
AC/DC power factor correction module offers up to 1,512W
A full brick package developed by TDK-Lambda, the PF1500B-360, is for high voltage distributed power architectures
More details...
Power Electronics Europe News
Three ICs from Maxim Integrated improve measurement accuracy for IoT
They are designed to reduce power consumption and size, while improving measurement accuracy, says the company. The MAX6078A voltage reference IC, the MAX16155 nanoPower supervisor and the MAX16160 voltage monitor and reset IC are claimed to achieve best-in-class performance for cloud infrastructure, IoT, intelligence-at-the-edge, on-device AI, as well as smart and emerging applications in consumer, communications, industrial and medical markets.

The MAX6078A precision voltage reference delivers industrial level accuracy on a tight battery power budget. It has ±0.04% initial accuracy, 20% more accurate than similar competitive devices, says the company. Quiescent current is 15µA, suitable for precision measurements on battery-powered and energy-harvesting systems. It operates at 6.6 times less current than the closest competitive parts and, at 1.458 x 1.288mm, is 58% smaller than competing solutions, claims the company.
The MAX16155 nanopower supervisor consumes just 400nA typical, or 4% of the supply current that competitive solutions require, providing reliable system protection for virtually no power. It ensures portable, low-power devices operate safely in the event of a power failure or code error by monitoring a system rail for under-voltage fault, explains the company. It also keeps the system in reset when it senses the fault along with a watchdog timer. The IC is provided in a 6-pin SOT23 package.
Finally, there is the MAX16160 four-channel voltage monitor and reset IC without VCC rail power-up requirement. It asserts reset low without requiring VCC rail if any of the rails is above 1V. It enables reliable start-up and continuous operation of multi-supply systems by asserting output low, explains the company. This 'no-power power-up' eliminates unknown system states and reduces the burden to accurately sequence the power rail start-up. It also has a voltage monitoring accuracy of ±1% for all inputs, it is up to 50% more accurate than competitive offerings (commonly ±1.5% for all inputs), the company reports. It is supplied in a six-bump WLP and measures 1.408 x 0.848mm, which is claimed to be 85% smaller than the closest competitor.