Features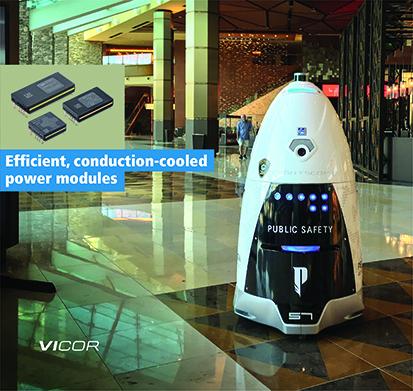 Knightscope's autonomous security robots patrol with superhuman acuity and detection prowess - May 2023
A fusion of innovative robotics, self-driving technology, vehicle electrification and artificial intelligence
More details...
AC/DC power factor correction module offers up to 1,512W
A full brick package developed by TDK-Lambda, the PF1500B-360, is for high voltage distributed power architectures
More details...
Power Electronics Europe News
45V and 60V Trench Schottky rectifiers are robust for automotive use
The rectifiers have a Tj maximum of 175°C and offer low leakage current and low forward voltage drop, adds the company. The series is optimised for automotive applications with low power loss and high efficiency; the maximum leakage current is 20mA at high temperature operation. The series includes 5A, 10A and 15A forward current and the maximum VRRM is 45V/60V.
The SMPC4.6U package is TO-277A-compatible and has a wettable flank package that enhances the solder joint and AOI testability, claims the company. It has a low profile height of 1.1mm. (typical) The series is RoHS- compliant and halogen-free.
Typical appliations are automtotive chargers, switch mode power supplies (SMPS), lighting, onboard DC/DC converters, reverse polarity protection and adapters.
Samples and products are in stock and available.
View PDF