Features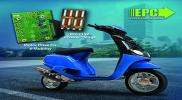 Integrated GaN Power Stage for eMobility - issue 2/2020
Brushless DC (BLDC) motors are a popular choice and are finding increasing application in robotics, drones, electric bicycles, and electric scooters. All these applications are particularly sensitive...
More details...
Linear voltage regulators operate at automotive temperatures
Designed for high reliability, high temperature applications, the CMT-Antares is Cissoid's latest regulator.
More details...
Power Electronics Europe News
PCIM Europe 2016 conference programme is published
The International Exhibition and Conference for Power Electronics, Intelligent Motion, Renewable Energy and Energy Management will be held in Nuremberg, 10 – 12 May 2016.
The programme covers diverse aspects with new materials, concepts, construction techniques, system integration and reliability issues to be presented and discussed in over 300 oral and poster presentations.

The highlights include, amongst others, three keynote speeches on "Welcome to the Post-Silicon World: Wide Band Gap Powers Ahead", "Smart Transformers – Concepts, Challenges, Applications" and "Trends of Solar System Integration Electricity Networks", as well as special sessions on: "Passive Components", "Smart Lighting" and "E-Mobility". Experts from different fields will analyse and discuss current topics such as industry 4.0 for power electronics in the panel discussion "Smart Future of Power Electronics".

On the two days before the official beginning of the conference, experts will discuss topics such as "Design Challenges for High Frequency Magnetic Circuit Design for Power Conversion", "Reliability Engineering in Power Electronics – from Components to Systems" or "Exceeding 99% Efficiency for PFC and Isolated DC-DC Converters. GANs versus Silicon" in seven half-day seminars and 10 full day tutorials.
View PDF