Features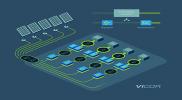 Factorized Power Accelerates Coral Reef Restoration -issue 3/2020
According to the latest figures over 70% of the world's coastlines are eroding, with 200 million people worldwide reliant on the protection that coral reefs offer. With 99% of remaining reefs...
More details...
Linear voltage regulators operate at automotive temperatures
Designed for high reliability, high temperature applications, the CMT-Antares is Cissoid's latest regulator.
More details...
Power Electronics Europe News
Developed for the latest Intel processor, a PMIC reduces power consumption in a small form factor, says Rohm Semiconductor....
Believed to include the first digital multi-phase PWM controllers with AVSBus, 12 controllers have been announced by Intersil...
Efficient Power Conversion (EPC) and JJPlus will collaborate on the design of wireless charging designs....
Qualcomm invests $4.7 billion primarily for automotive...
The automotive-grade ISL76534 enables bright, high-contrast LCDs, says Intersil, with low power and gamma calibration....
A new reports shows that the increased use of renewables has led to an unprecedented change in energy supply....
The AP3301 quasi-resonant (QR) PWM controller offers protection and reliability in power adapter applications, says Diodes....
Non-isolated mono block converters are available from Murata in two models, a 6A and a 20A version....
With a maximum output withstand of 40V and output of 2.0A, the TC78S122FTG is a bipolar stepping motor driver IC from Toshiba...
Thee TS985 comparator is small enough for use in space-constrained applications, says STMicroelectronics....