Features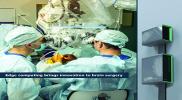 Edge Computing Leverages Modular Power in Scalable Micro Data Centres - May 2022
Edge computing is essential to realizing the full potential of artificial intelligence (AI), machine learning and internet of things (IoT). These technologies are being infused into every corner of...
More details...
Power Electronics Europe News
To reduce footprint and simplify brushless DC (BLDC) motor designs, Allegro MicroSystems Europe offers the AMT49105....
Chassis-mount and IEC inlet EMI filters from XP Power enable equipment to conform to EMC emission and immunity standards...
Dual- and single-channel battery monitoring system isolation transformer modules from Bourns are available from RS Components...
The Recom RBB10 buck-boost converter has all-round shielding to enhance thermal performance and prevent EMI. ...
Designed for smart automation and automotive modules, the LDO40L is a low dropout regulator from STMicroelectronics....
The UF3C Fast FET series now includes 650 and 1200V silicon carbide (SiC) FETs in a TO-247-4L four-pin Kelvin Sense package. ...
Micropower Hall-effect switch ICs from Allegro MicroSystems Europe have automatic power management to optimise battery life....
Littelfuse adds automotive transient voltage suppression (TVS) diodes with a single component to protect automotive circuitry...
The ISL9241 from Renesas Electronics Europe is believed to be the first USB-C buck-boost battery charger to support two modes...
48V to load technology enables more compact, efficient and cost effective power in data centres, says Flex Power Modules...