Features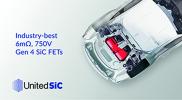 A New Approach to Circuit Breaker Design Using Silicon Carbide Switches - Nov 21
Mechanical circuit breakers can be low cost with minimal losses, but they operate slowly and wear out. Solid state versions overcome the problems and are becoming increasing viable as replacements at...
More details...
Power Electronics Europe News
Automotive 40V n-channel power MOSFETs reduce on-resistance
The TPHR7904PB and TPH1R104PB are AEC-Q101 qualified and supplied in a 5.0 x 6.0mm package. They are designed for a variety of automotive applications including electric power steering (EPS), load switches, electric pumps and fans.
They are fabricated using the latest (ninth) generation trench U-MOS IX-H process and provide on-resistance (RDS(ON)) as low as max 0.79mΩ at VGS=10V. This reduces conduction losses, says the company. The MOSFETs are specified with a drain-source voltage (VDSS) of 40V and can handle drain currents (ID) up to 150A DC. The U-MOS IX-H design also lowers switching noise, helping to reduce EMI, adds the company.
The SOP Advance (WF) package employs a wettable flank terminal structure, which enables automated visual inspection of solder joints on PCBs, a key requirement for automotive quality compliance, claims the company.
View PDF