Features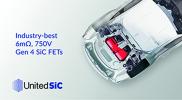 A New Approach to Circuit Breaker Design Using Silicon Carbide Switches - Nov 21
Mechanical circuit breakers can be low cost with minimal losses, but they operate slowly and wear out. Solid state versions overcome the problems and are becoming increasing viable as replacements at...
More details...
Power Electronics Europe News
Diode and thyristor modules are designed for retro-fit and new
The B0 modules
are designed to
provide improved electrical and thermal parameters
to achieve
allowing to achieve
average forward current values (IFAV) and the on state current
value
(ITAV)
up to 700 A. The
m
aximum repetitive peak forward and reverse blocking voltage
(
VDRM / VRRM
)
range varies from 1
,
000 to 6
,
500V.
The modules are also designed with an industry standard housing and an insulated baseplate width of 50mm making it easier to use them in existing equipment. Baseplate isolation voltage is up to 7kV AC (50Hz, 1 minute).
The modules can be used in energy converters, as well as other DC and AC circuits for a variety of power applications, principally electric drive control systems, rectifier bridges, AC controls, DC motor control and power supplies.
Proton-Electrotex offers customisation options for products, to accommodate individual requirements for parameters, connections and appearance.
View PDF