Features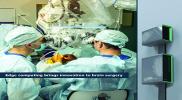 Edge Computing Leverages Modular Power in Scalable Micro Data Centres - May 2022
Edge computing is essential to realizing the full potential of artificial intelligence (AI), machine learning and internet of things (IoT). These technologies are being infused into every corner of...
More details...
Power Electronics Europe News
New laboratory will provide faster and more detailed support to a growing European customer base...
GaN Systems introduces the GeN2 amplifier and SMPS reference design for smaller, high performance Class-D audio...
BMW demonstrates its 2022 BMW iX all-electric sports at CES 2022 in Las Vegas, using the company's software for ECUs....
Toshiba Electronics Europe introduces three photorelays to increase density in in space-critical applications...
What is believed to be the industry's first energy harvesting optimised antenna has been introduced by e-peas ...
Infineon extends AIROC series with the CYW20829 Bluetooth Low Energy SoC for IoT, smart home and industrial applications....
Mornsun adds two medically-approved power supplies to its LOF series, available from Relec Electronics...
Shielded Gigabit Ethernet/PoE chip LAN transformers introduced by Bourns are for high-speed telecomms and EMI suppression...
Transfer Multisort Elektronik (TME) has added 15 SPSCAP products to its supercapacitor portfolio...
The ePower chipset is a 100V GaN driver and an eGaN FET which can be up to 65A for high density, small form factor designs...