Features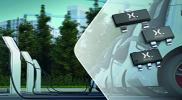 New Developments in RET Technology - Feb/March 2021
Resistor-Equipped Transistors (RETs) – also known as digital transistors or pre-bias transistors – offer many benefits, including saving space, reducing manufacturing costs and increased...
More details...
Power Electronics Europe News
High voltage MOSFETs improves power density in solar and EV charging
The MOSFETs are designed to operate at 600V breakdown voltage and are claimed to deliver improved super-junction MOSFET performance. The company also claims that they achieve unmatched power density in target applications.
The P7 version offers benchmark efficiency and optimised price/performance ratio, for applications such as chargers, adapters, lighting, TV, PC power, solar, server, telecom and electric vehicle (EV) charging. It addresses power classes from 100W to 15kW. The MOSFET enables efficiency gains of up to 1.5% in various topologies, and offers up to 4.2°C thermal benefits compared to competing devices, says the company. The P7 has a wide R DS(on) range of 37 to 600mΩ, for both surface mount and through hole packages. ESD robustness of more than 2kV (HBM) protects the device from electro static discharge (ESD) damage in production. The rugged body diode protects the device during hard commutation events in LLC circuits.
The G7 MOSFET features a lower R DS(on), minimised gate charge Q G, reduced energy stored in the output capacitance, and a four-pin Kelvin source capability of the TO-Leadless package. This minimises losses in power factor correction (PFC) and LLC circuits and offers a performance gain of 0.6% as well as higher full load efficiency in PFC circuits. The low parasitic source inductance of 1.0nH also contributes to increased efficiency levels.
The improved thermal properties in a TO-Leadless package enable the MOSFETs to be used in higher current designs, while SMD technology allows for a less costly mounting process. Compared to traditional D²PAK, it offers a 30% footprint, 50% height and 60% space reduction.
View PDF