Features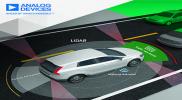 Powering the future of Autonomous driving - issue 4/2019
Analog Devices announced mid July a collaboration with First Sensor AG to develop products aimed at speeding the launch of autonomous sensing technology serving unmanned automotive, aerial and...
More details...
Linear voltage regulators operate at automotive temperatures
Designed for high reliability, high temperature applications, the CMT-Antares is Cissoid's latest regulator.
More details...
Power Electronics Europe News
Enhanced mode GaN FETs from Efficient Power Conversion Corporation (EPC) can be used for wireless charging....
Dengrove Electronic Components has introduced the Recom RK/H6 and RH/H6 1W DC/DC converters...
A package option for the A115x two-wire unipolar Hall-effect switches is available from Allegro MicroSystems Europe....
More accurate measurements for modern inverters...
Innoswitch-EP contains 725-V power MOSFET...
The TB9081FG IC from Toshiba has integrated safety and detection circuits for high functional safety in vehicles....
A current mode, 2MHz step-up DC/DC converter from Linear Technology operates from an input range of 3.0 to 40V....
Intersil claims to have developed the industry's first 80A fully encapsulated digital DC/DC PMBus power module....
The global power module market is projected to be nearly one third of the power semiconductor market by 2019, reports IHS....
Freescale expands its hardware- and software-compatible battery cell portfolio with a three- to six-cell Li-Ion controller....