Features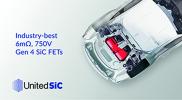 A New Approach to Circuit Breaker Design Using Silicon Carbide Switches - Nov 21
Mechanical circuit breakers can be low cost with minimal losses, but they operate slowly and wear out. Solid state versions overcome the problems and are becoming increasing viable as replacements at...
More details...
Power Electronics Europe News
SiC diodes shrink PV inverters, EV charger and data centres
The diodes' SiC technology provides higher switching capabilities with lower power losses and effortless paralleling of devices, says the company.
The family of diodes includes surface mount and through hole packages ranging from six to 50A. All provide zero reverse recovery, low forward voltage, temperature independent current stability, high surge capacity and positive temperature co-efficient.
According to the company, the diodes are aimed at engineers designing power factor correction (PFC) and boost converters for various applications including solar PV inverters, EV/HEV chargers, telecomms power and data centre power supplies while delivering smaller footprints at higher efficiencies.
The 650V devices exhibit a reduced power loss due to the inherent low forward voltage (VF) and no reverse recovery charge of SiC diodes. This improves efficiency, adds the company. The faster recovery of SiC diodes allows for higher switching speeds and reduces the size of magnetics and other passive components to reduce the size of overall circuit designs. The SiC diodes can withstand higher surge currents and deliver stability over the operating temperature range of -55 to 175°C.
The SiC Schottky diodes have a patented termination structure for reliable, stable and rugged operation. They also offer higher avalanche energy, claimed to be the industry's highest unclamped inductive switching (UIS) capability and lowest leakage currents.
The 650 V SiC diode devices are offered in DPAK, TO-220, and TO-247 packages.
View PDF