Features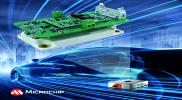 Evaluating Three Key Pieces of a SiC Total System Solution - October 2020
Following a rapid expansion of SiC product options, the industry's next challenge is simplifying the design-in process for end users. Power system developers need holistic solutions that address not...
More details...
Linear voltage regulators operate at automotive temperatures
Designed for high reliability, high temperature applications, the CMT-Antares is Cissoid's latest regulator.
More details...
Power Electronics Europe News
Combined motor driver IC saves board space
The IC is capable of driving one stepper motor and one DC motor. The stepper driver PWM current regulator from Allegro MicroSystem uses the company's patented mixed-decay mode for reduced audible motor noise, increased step accuracy, and reduced power dissipation.
The bipolar stepper driver outputs are rated up to 1.6A and the high current DC driver at 3.2A. The IC includes fixed off-time PWM (pulse width modulation) current regulators, along with 2bit non-linear DACs that allow stepper motors to be controlled in full, half, and quarter step modes.
The IC is targeted at the consumer, industrial and office automation markets, including point of sale, lottery, ticketing, laser, inkjet and label printers, copiers, vending, and ATM machines.
The DC driver can operate in forward, reverse, coast and brake modes with either fast or slow PWM decay control.
Protection features include thermal shutdown with hysteresis, under-voltage lock-out, crossover current, and over-current protection. Low current sleep mode is included to improve efficiency.
The IC is supplied in a leadless 6.0 x 6.0 x 0.9mm, 36pin QFN package with exposed power tab for enhanced thermal performance. The package is lead- (Pb) free, with 100% matt-tin leadframe plating.
View PDF