Features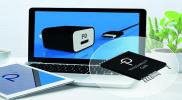 GaN-based switcher ICs empower next-generation power products - issue 1/2020
There have been a number of disruptive advances in the power electronics community over the last 20 years....
More details...
Linear voltage regulators operate at automotive temperatures
Designed for high reliability, high temperature applications, the CMT-Antares is Cissoid's latest regulator.
More details...
Power Electronics Europe News
The EPC9065 can be used as the amplifier stage for AirFuel Alliance Class 4 and Class 5 wireless power transfer applications....
The latest Recom RACM40 and RACM65 medical power supplies are now available from Dengrove Electronic Components....
Claimed to be a world first, the A1569 LED driver IC has an integrated Hall-effect switch, says Allegro Microsystems Europe....
A Windows-based software tool can be used for configuration and testing of gate drives for converter power stack developments...
Power Integrations offers solid-state lighting driver for non-isolated lamp designs and isolated ballast topologies....
Powering 48-V automotive applications...
Power Integrations announces its InnoSwitch-CP family of off-line CV/CC flyback switching ICs. ...
The conference programme has been published for this year's show, covering varied topics and with market-focused keynotes....
Miniature, PoL switching regulators from MicroPower Direct provide up to 0.5A of output current. ...
Abstracts on lighting trends and innovations are invited from experts from science and industry. Deadline is Fri 19 February....