Features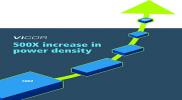 Innovating Power Module Packaging - April/May 21
A systemís power delivery network or PDN is made up of passive and active components such as cables, connectors, AC-DC and DC-DC converters and regulators. As power levels increase to enable new
More details...
Power Electronics Europe News
FETs lower GaN transistor costs and boost performance
The company has introduced two FETs, the EPC2045 and EPC2047 eGaN (enhancement-mode gallium nitride on silicon) FETs. According to the company, the two transistors advance the performance capability while lowering the cost of off-the-shelf GaN transistors. The EPC2045 (7.0mΩ, 100V) can be used in single-stage, 48V to load open rack server architectures, PoL (point of load) converters, USB-C, and LiDAR remote sensing technology systems. The EPC2047 (10mΩ, 200V) version can be used in wireless charging, multi-level AC/DC power supplies, robotics, and solar micro inverters.
Widening the performance/cost gap with equivalent silicon power transistors, the EPC2045, cuts the die size in half compared to the prior-generation EPC2001C eGaN FET. The EPC2047 eGaN FET also halves the size, making it now around 15 times smaller than equivalently rated silicon MOSFETs, says the company.
The chipscale packaging of eGaN products handles thermal conditions better than the plastic packaged MOSFETs as chip scale devices dissipate the heat directly to the environment, whereas the heat from the MOSFET die is held within a plastic package.
Alex Lidow, EPC's co-founder and CEO believes "Advancements in EPC's GaN technology will continue to enable new end-use applications that go beyond the capability of silicon devices. These products are evidence that the performance and cost gap with MOSFET technology continues to widen."
There are three development boards available to support easy in-circuit performance evaluation of the EPC2045 and the EPC2047. The EPC9078 and EPC9080 support the 100V EPC2045, whereas the EPC9081 features the 200V EPC2047.
The devices have lower capacitance than their silicon counterparts, which results in lower gate drive losses and lower device switching losses at higher frequencies for the same on-resistance and voltage rating. In the case of the EPC2045, a 30% reduction in power loss with a 2.5% points better efficiency than the best comparable MOSFET was achieved in a 48 to 5.0V circuit operating at 500kHz switching frequency.
The performance, size, and cost improvements are attributed to a reduction in the electric fields in the drain region during breakdown, and by reducing the number of traps that could cause electrons to become inactive.
View PDF