Features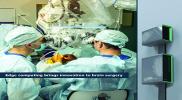 Edge Computing Leverages Modular Power in Scalable Micro Data Centres - May 2022
Edge computing is essential to realizing the full potential of artificial intelligence (AI), machine learning and internet of things (IoT). These technologies are being infused into every corner of...
More details...
Power Electronics Europe News
Addressing emerging applications, the AD242x Automotive Audio Bus transceivers have been enhanced by Analog Devices....
Vishay Intertechnology has expanded its power modules available in the SOT-227 package with seven new devices....
Alpha and Omega Semiconductor says its 25V technology in the XSPairFET leadless package sets a new standard for power density...
Dual-Core Digital Signal Controller Enables Separate code Design for Digital Power and Drives ...
Isabellenhuette turns a long known metallurgy compound into reality for regenerating waste heat into electrical power. ...
Two Scale-iDriver gate driver ICs are certified to AEC-Q100 grade Level 1 for automotive use, says Power Integrations....
Analog Devices has announced a bandwidth RF transceiver which is claimed to have the industry's widest bandwidth. ...
Two LFPAK56 MOSFETs, the PSMN0R9-30ULD and PSMN1R0-40ULD from Nexperia meet UL2595 requirements for battery powered equipment...
A two-channel PCB from Advanced Linear Devices (ALD), automatically balances supercapacitors....
Intelligent power modules (IPMs) released by Infineon Technologies integrate the company's CoolMOS MOSFETs. ...