Features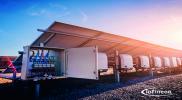 Benefits of CoolSiC MOSFETs in Bi-Directional Inverter Applications - July 2021
With the move to renewable energy, there is an increased focus not only on generation but also storage, to make the most of the intermittent supply from wind and solar. Batteries are the common...
More details...
Power Electronics Europe News
Infineon Technologies' IRPS5401, is a five output PoL digital voltage regulator for multi-rail power sytems....
Dengrove Electronic Components supplies Recom DC/DC converters, designed for powering high-slew-rate gate drivers....
Diodes and Weltrend Semiconductor release a joint reference design for one of the first chargers to support fast charging...
The RKZ3 is a pin-compatible upgrade to Recom's 2W SIP7 converters, providing 50% more power density in the same footprint....
The EPC9086 high efficiency, half-bridge development board from Efficient Power Conversion (EPC) can operate up to 10MHz....
Alpha and Omega Semiconductor announces the first in a family of P-Channel MOSFETs. ...
Dengrove Electronic Components announces that it now offers Recom's latest 2MOPP 1.0W DC/DC converter series....
The ChiP DCM (DC/DC converter modules from Vicor have been extended with a range of ±1% voltage regulation devices....
Gresham Power, now offers two series of DC/DC converters, approved for medical use, from Polytron Devices....
Recom has released a 50W DC/DC converter which is reliable and efficient for PoE and industrial applications. ...