Features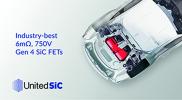 A New Approach to Circuit Breaker Design Using Silicon Carbide Switches - Nov 21
Mechanical circuit breakers can be low cost with minimal losses, but they operate slowly and wear out. Solid state versions overcome the problems and are becoming increasing viable as replacements at...
More details...
Power Electronics Europe News
MOSFET achieves low power loss for USB Type-C interface designs
Described as robust and versatile, the AONR21357 is the initial product in the family and is designed for USB PD load switch applications. It uses the improved P-Channel MOSFET process to achieve low power loss and reliable start-up, says the company. It is designed for USB PD load switch applications with extended input voltage range.
The MOSFET is rated at -30V drain-source breakdown voltage (BVDss) and -25V gate-source voltage. It features a maximum on resistance (RDSON) of 12.3mΩ under VGS at -4.5V. It also features a thermally enhanced 3.0 x 3.0mm DFN package. According to the company, the MOSFET is particularly suitable for load switch applications in notebook adapter-in/ battery in sockets.
As USB Type-C is becoming the de-facto interface for PCs and mobile products, the USB-PD standard is implemented to cover various power delivery requirements for many portable devices. The load switch circuit is used to switch on/off the power bus according to the power management proxy. This MOSFET, used as the load switch, offers extended I/O voltage range and designed to accommodate the possible working conditions. The enhanced P-Channel technology permits linear mode operation, and low Miller's Plateau (<3.5V) to cover the possible USB-PD voltages.
It is targeted to address the need for -30VDS and -25VGS discrete P-Channel MOSFETs and the final family will be offered in SO-8 and two DFN (3.0 x 3.0 and 5.0 x 6.0mm) package options.
The AONR21357 is immediately available in production quantities with a lead-time of 12 weeks.
View PDF