Features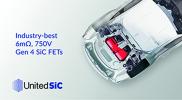 A New Approach to Circuit Breaker Design Using Silicon Carbide Switches - Nov 21
Mechanical circuit breakers can be low cost with minimal losses, but they operate slowly and wear out. Solid state versions overcome the problems and are becoming increasing viable as replacements at...
More details...
Power Electronics Europe News
Development board simplifies eGaN evaluation
The board features a 30V EPC2111 eGaN (enhancement-mode gallium nitride) half bridge and Peregrine Semiconductor's recently introduced high speed PE29102 gate driver. It measures 2.0 x 2.0-inch and was designed to reduce time to market by simplifying the evaluation process of the eGaN by including all the critical components, such as Peregrine's high-speed gate driver on a single board that can be easily connected into any existing converter, says the company.
The PE29102 is an integrated high-speed driver specifically designed to control the gates of high switching-speed external power devices, such as eGaN FETs. The driver's outputs can provide switching transition speeds in the sub-nanosecond range with optimised matched dead time. It is also claimed to offer best-in-class propagation delay for hard switching applications up to 40MHz, enabling the high performance of GaN power transistors, adds the company. The PE29102 provides minimum pulse widths of 5ns and is offered as a 2.0 x 1.6mm flip chip die, enabling a small form factor power stage for high duty cycle power conversion at high frequency.
This board may be used for applications where high frequency can enable a significant size and height reduction such as notebook and tablet computing. The board has been evaluated in a 12V to point-of-load DC/DC converter application and achieved efficiency levels of 86% at 10A when switching at 5.0MHz and over 80% when switching at 10MHz.
The board is available for immediate delivery from distributor, Digi-Key.
View PDF