Features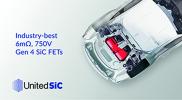 A New Approach to Circuit Breaker Design Using Silicon Carbide Switches - Nov 21
Mechanical circuit breakers can be low cost with minimal losses, but they operate slowly and wear out. Solid state versions overcome the problems and are becoming increasing viable as replacements at...
More details...
Power Electronics Europe News
DC/DC converter series is a pin-compatible upgrade
The 3W high-isolation DC/DC converters are suitable for industrial applications to isolate supplies, break ground loops or separate multi-channel inputs which require more power than currently available in standard SIP7 isolated DC/DC converters.
The converters have input voltages of 5.0, 12 and 24V DC with standard output voltages of 5.0 and 12V DC, and operate over a temperature range from -40 to 90 degree C. The converters are pin-compatible with the RK and RKZ series, offering either 3.0 or 4.0kVDC (/H version) as standard. They are also available with continuous short-circuit protection (/P version). Safety certification is to IEC/EN62368-1 and the converters are supplied with a three-year warranty. Samples are available from all authorised distributors.
View PDF