Features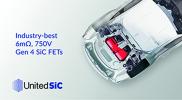 A New Approach to Circuit Breaker Design Using Silicon Carbide Switches - Nov 21
Mechanical circuit breakers can be low cost with minimal losses, but they operate slowly and wear out. Solid state versions overcome the problems and are becoming increasing viable as replacements at...
More details...
Power Electronics Europe News
SiC MOSFET provides fast switching with low losses
The first series of silicon carbide (SiC) MOSFETs, is the first organically designed, developed, and manufactured SiC MOSFETs to be released since Littelfuse invested in SiC technology development company, Monolith Semiconductor.
The LSIC1MO120E0080 series MOSFETs have a voltage rating of 1,200V and low on-resistance of 80mΩ. The MOFET is optimised for high-frequency switching applications, claimed to provide a combination of low switching losses and fast switching speeds unavailable with traditional power transistor solutions.

Compared with silicon devices that have the same rating, the SiC MOSFET series enables greater energy efficiency, reduced system size and weight, and increased power density in power electronics systems. It also offers superior robustness and exceptional performance, says Littelfuse, even at high operating temperatures (150°C).

Typical applications include power conversion systems such as solar inverters, switch mode power supplies, UPS systems, motor drives, high voltage DC/DC converters, battery chargers and induction heating.

The LSIC1MO120E0080 series SiC MOSFET is available in TO-247-3L packaging and provided in tubes in quantities of 450. Sample requests may be placed through authorised Littelfuse distributors worldwide.
View PDF