Features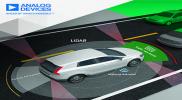 Powering the future of Autonomous driving - issue 4/2019
Analog Devices announced mid July a collaboration with First Sensor AG to develop products aimed at speeding the launch of autonomous sensing technology serving unmanned automotive, aerial and...
More details...
Linear voltage regulators operate at automotive temperatures
Designed for high reliability, high temperature applications, the CMT-Antares is Cissoid's latest regulator.
More details...
Power Electronics Europe News
PEM will demonstrate its range of Rogowski technology-based, wide-bandwidth current probes at PCIM next month....
The LTC3892 is a high voltage dual output synchronous step-down DC/DC controller from Linear Technology which draws just 29µA...
A new book gives more insights...
Expansion of the Cool-Power ZVS PoL regulator range by Picor introduces three high efficiency buck-boost regulators....
Claimed to be fastest silicon diodes in the world, Qspeed LQA150 devices feature softness for low EMI....
Ferrite material developed by TDK is characterised by low losses at high frequencies. ...
A CC-RL C compiler development environment for Renesas Europe's RL78 16bit microcontrollers has been announced....
Isolated DC/DC converters within Vicor's ChiP power components range now cover critical applications....
MSP432 microcontrollers from Texas Instruments use the same power budget as its 16bit MSP devices but with more performance....
48 and 60W open-frame power supplies from Recom are now ready to order from Dengrove Electronic Components....