Features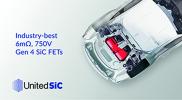 A New Approach to Circuit Breaker Design Using Silicon Carbide Switches - Nov 21
Mechanical circuit breakers can be low cost with minimal losses, but they operate slowly and wear out. Solid state versions overcome the problems and are becoming increasing viable as replacements at...
More details...
Power Electronics Europe News
15µH inductor is available in 0402 size for smartphones
The LQW15DN series of inductors is designed for use in communication devices such as smartphones.
Today's communications devices, such as smartphones, require miniaturisation of the components for multi-functionality and multi-modality, and also large inductance values for booster circuits installed in RF antenna tuning circuits and Bluetooth modules.
The inductors achieve a maximum inductance of 15µH in the 1005 size using the company's unique materials and design technology that enable miniaturisation and high-efficiency of the final circuit.
The inductors have an average DC resistance of 5.7Ω, an inductance test frequency of 10MHz, and a current rating of 100mA. Self-resonance is specified as 20MHz minimum and a wide operating temperature range of -40 to 85°C is provided. The part's magnetic shield is the magnetic resin type.
The inductors are available packaged in quantities of 8000 in 180mm diameter paper tape roll.
View PDF