Features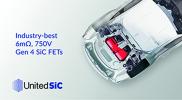 A New Approach to Circuit Breaker Design Using Silicon Carbide Switches - Nov 21
Mechanical circuit breakers can be low cost with minimal losses, but they operate slowly and wear out. Solid state versions overcome the problems and are becoming increasing viable as replacements at...
More details...
Power Electronics Europe News
Six SiC FETs support higher switching speeds
The six additions are available as 650V (UF3C065080B7S / UF3SC065030B7S) and 1,200V (UF3C120150B7S / UF3SC120040B7S) FETs and are housed in the industry-standard D2PAK-7L surface mount package. They are, says the company, another step in the migration of SiC to server, telcomms power supplies, industrial battery chargers, power supplies, electric vehicle (EV) on-board chargers and DC/DC converters.

The FETs are available in 30, 40, 80 and 150mΩ versions. They support "significantly heightened" switching speeds, with a Kelvin source connection improving gate drive return performance, and what are claimed to be industry-leading thermal capabilities. Ag sintering means that die attachments can be done on conventional PCBs as well as complex insulated metal substrate (IMS) arrangements. They also exhibit excellent creepage and clearance figures of 6.7mm and 6.1mm respectively for high degrees of operational safety even at elevated voltages.
The D2PAK-7L devices are supported by the company's FET-Jet Calculator, a free, online resource, which allows engineers to assess the different operational parameters needed for an application, and to carry out performance comparisons to identify the best SiC device for a design.
View PDF