Features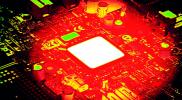 Integrated Battery-Charging Solution with Power Path Management - issue 5/2019
A new single coil power management IC with flexible configuration, rich functions and high efficiency integrates as many analog circuits as possible...
More details...
Linear voltage regulators operate at automotive temperatures
Designed for high reliability, high temperature applications, the CMT-Antares is Cissoid's latest regulator.
More details...
Power Electronics Europe News
Gallium nitride (GaN) -based power devices will be available in wafer form for ease of power systems integration...
Dengrove Electronic Components now offers Recomís R-REF03-CAN1 reference board to streamline isolated CAN interface design....
A universal AC input power supply inside the case of a standard IEC mains filter creates an all-in-one AC/DC power supply...
WFM Power Metal Plate resistors combine high power and a wide resistance range to improve accuracy without parallel elements...
Powerbox introduces 105 models for demanding medical applications with a reinforced isolation value of 5,000V AC....
At PCIM Europe 2019, the companyís stand highlighted the reliable SiC B0 module in an industry standard package....
High-Power Module Platform for Automotive Traction Applications wins BPA ...
Recomís railway-certified RP40Q-RUW and RP60Q-RUW DC/DC converters are available from Dengrove Electronic Components. ...
Devices in the latest addition to the STPower portfolio, the HB2 650V IGBT series, meet AEC-Q101 Rev. D...
The Type 1LV (CYQ43012) is claimed to be the lowest power, small form factor Wi-Fi and Bluetooth module....