Features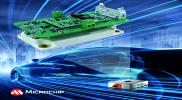 Evaluating Three Key Pieces of a SiC Total System Solution - October 2020
Following a rapid expansion of SiC product options, the industry's next challenge is simplifying the design-in process for end users. Power system developers need holistic solutions that address not...
More details...
Linear voltage regulators operate at automotive temperatures
Designed for high reliability, high temperature applications, the CMT-Antares is Cissoid's latest regulator.
More details...
Power Electronics Europe News
Superjunction MOSFETs are energy-efficient for low frequencies
The MOSFETs are designed for applications where MOSFETs are switched at a low frequency. The MOSFETs are optimised for conduction performance, improved thermal resistance and high-pulse current capability for use in active bridge rectification, inverter stages, PLCs, power solid-state relay and solid-state circuit breakers.
The MOSFETs are claimed to have the lowest on-resistance in the market for a high-voltage switch. The 10mΩ model is believed to be the industry's smallest RDS(on) device. This 10mΩ chip is available in a top-side cooled QDPAK and the 22mΩ, 40mΩ and 65mΩ devices are offered in a small TO-leadless (TOLL) SMD package.
These MOSFETs support systems to meet regulations and energy efficiency certification standards (i.e. Titanium for switch mode power supplies) as well as fulfill power budgets and reduce part count, heat sinks and total cost of ownership (TCO).
The 22mΩ, 40mΩ and 65mΩ devices are available now. The 10mΩ CoolMOS S7 MOSFET will be on stock in Q4 2020.
View PDF