Features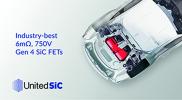 A New Approach to Circuit Breaker Design Using Silicon Carbide Switches - Nov 21
Mechanical circuit breakers can be low cost with minimal losses, but they operate slowly and wear out. Solid state versions overcome the problems and are becoming increasing viable as replacements at...
More details...
Power Electronics Europe News
Miniature power relay meets solar inverter applications
The relays have a 4.5kV dielectric strength and 10kV surge resistance and are capable of switching up to 35A at 277V AC. Coil voltages range from five to 48V DC. The relay is designed for the use in solar inverter applications according IEC 62109 says the company, and can be used in many other applications as well.
The dielectric strength is 4.5kV between coil/contact. The relays are able to withstand 10kV surge impulse. In the standard version the AZ SR131 has a contact gap of 1.8mm and a dielectric strength of 2.5kV between open contacts. A wide contact gap version (2.3mm) is also available, with dielectric strength of 3.5kV between open contacts.
The electric life expectancy is specified with 30,000 cycles at 35A 277V AC at an ambient temperature up to 85°C. The relays are available with silver tin oxide SPST-N.O. (1 Form A) contacts. Class F insulation (155°C) is standard.
The AZ SR131 power relays meet RoHS, REACH as well as IEC 61810-1 for the use in low voltage equipment and UL 508 for industrial control panels. Versions compliant to IEC-60335-1 (GWT-Glow Wire Testing) for household appliances are also available.
View PDF