Features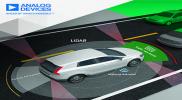 Powering the future of Autonomous driving - issue 4/2019
Analog Devices announced mid July a collaboration with First Sensor AG to develop products aimed at speeding the launch of autonomous sensing technology serving unmanned automotive, aerial and...
More details...
Linear voltage regulators operate at automotive temperatures
Designed for high reliability, high temperature applications, the CMT-Antares is Cissoid's latest regulator.
More details...
Power Electronics Europe News
International Rectifier simplifies design with building blocks for frequently used circuit elements. ...
Fairchild claims that it has developed the first 1000V switch with the highest breakdown voltage in a single package....
Inverter IPMs (integrated power modules) from ON Semiconductor have an internal bootstrap circuit for high side gate drive. ...
A GaN half bridge from EPC (Efficient Power Conversion) can increase efficiency and power density for buck converter systems....
A 10W wireless charging receiver and transmitter for Qi-compliant devices have been released by Texas Instruments....
The InnoSwitch IC family offers the best of both worlds, says Power Integrations, for switch-mode power supply design. ...
Infineon Outperformes The Market...
The iW1770 primary-side controller provides higher peak power to allow designers to create small, high power adapters....
Nine Enpirion power SoCs, including step-down ICs, by Altera are automotive-qualified....
Analog Devices claims that its dual D/A converters are an industry first – delivering 2.8Gsample/s....