Features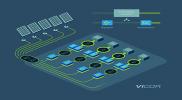 Factorized Power Accelerates Coral Reef Restoration -issue 3/2020
According to the latest figures over 70% of the world's coastlines are eroding, with 200 million people worldwide reliant on the protection that coral reefs offer. With 99% of remaining reefs...
More details...
Linear voltage regulators operate at automotive temperatures
Designed for high reliability, high temperature applications, the CMT-Antares is Cissoid's latest regulator.
More details...
Power Electronics Europe News
Five integrated synchronous buck regulators from Intersil step-down 5V rails to PoL inputs for FPGAs, DSPs and...
The DMP4015SPSQ 40V P-channel MOSFET protects electronic control units (ECUs) against reverse-battery connection....
Surface-mount 1W DC/DC converters in the Recom R1Z range, are available from Dengrove Electronic Components....
PMICs from Cypress Semiconductor regulate power supply voltage from a vehicle's battery for applications ...
After Infineon/IR Consolidation in Power Semiconductors Continues...
Useful for (H)EV Applications...
Menbtor's Flowtherm allows IGBT Module's Lifetime Prediction...
More Consumer Electronics in the car...
Claimed to have the industry's lowest quiescent current (Iq) at 700nA, the bq25120 has been released by Texas Instruments....
European initiative aims to address charging infrastructure....