Features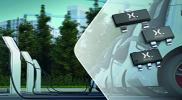 New Developments in RET Technology - Feb/March 2021
Resistor-Equipped Transistors (RETs) – also known as digital transistors or pre-bias transistors – offer many benefits, including saving space, reducing manufacturing costs and increased...
More details...
Power Electronics Europe News
40V, 3.5A µModule regulator complies to FMEA
It has a 40V input voltage rating (42V max) and 3.5A of continuous (6A peak) output current. The pinout is FMEA (failure mode effects analysis) -compliant, so the output voltage stays at or below the regulation voltage in the event of short-circuit to GND, short-circuit to a neighbouring pin, or if a pin is left floating. Operating range is -40 to 125°C and -4- to 150°C for the H-grade version, designed for for high temperature or high power automotive and industrial applications.
Input voltage is 3.4 to 40V and the adjustable output voltage ranges from 0.97 to 18V. The switching frequency is adjustable via an external resistor, or can be synchronised to an external clock from 200kHz to 3MHz.
Four operation modes are Burst Mode, pulse skip mode, pulse skip mode with spread spectrum and external synch mode. The quiescent current in Burst Mode operation is 25µA (max), suitable for battery-operated systems.
Efficiency at 12VIN to 3.3VOUT is 90% and the regulator delivers 3.5A of output current up to 100℃ ambient without a heat sink or airflow.
The device includes a switching regulator, inductor and supporting components in a 6.25 x 9.0 x 3.32mm BGA package.
View PDF