Features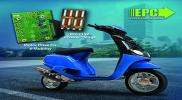 Integrated GaN Power Stage for eMobility - issue 2/2020
Brushless DC (BLDC) motors are a popular choice and are finding increasing application in robotics, drones, electric bicycles, and electric scooters. All these applications are particularly sensitive...
More details...
Linear voltage regulators operate at automotive temperatures
Designed for high reliability, high temperature applications, the CMT-Antares is Cissoid's latest regulator.
More details...
Power Electronics Europe News
Electronica 2014 news- International Rectifier adds 650V Trench IGBTs
The rugged 650V IGBTs are optimised for fast switching applications including solar inverters, welding equipment, industrial motors, induction heating and uninterruptible power supplies.
The IRGP47xx IGBTs range from 15 to 90A, and user the trench thin-wafer technology to reduce conduction and switching losses. Available as discrete devices or co-packaged with a soft recovery low Qrr diode, they offer fast switching (eight to 30KHz), for an increased short circuit rating of 6µs. The positive VCE(ON) temperature co-efficient facilitates paralleling, says the company. The higher breakdown voltage provides reliability during extreme weather variations and AC-line instability, and eliminates the requirement for voltage suppression devices.
Suitable for a wide range of switching frequencies, the IGBTs have low VCE(ON) of 1.7V (typical) at 100°C and low total switching energy (ETS) to reduce power dissipation. Maximum junction temperature is 175°C.
View PDF