Features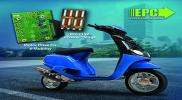 Integrated GaN Power Stage for eMobility - issue 2/2020
Brushless DC (BLDC) motors are a popular choice and are finding increasing application in robotics, drones, electric bicycles, and electric scooters. All these applications are particularly sensitive...
More details...
Linear voltage regulators operate at automotive temperatures
Designed for high reliability, high temperature applications, the CMT-Antares is Cissoid's latest regulator.
More details...
Power Electronics Europe News
Synchronous buck-boost DC/DC converter prolongs battery life
The converter can extend the usable life of a battery by boosting (stepping up) the output voltage to provide sufficient power to continue operation. This extends battery life by more efficiently using the remaining charge of the battery.
A fully charged Li-ion battery starts at a high operating voltage, but as the battery is discharged its operating voltage declines to the point it can no longer provide sufficient voltage to power its load, even if some charge remains.
The 6MHz switching frequency allows for a smaller size inductor and capacitors, reducing the overall mounting area by as much as half. The buck-boost converter operates in fixed frequency PWM mode using synchronous rectification to obtain maximum efficiency. At low load currents, the converter can be switched over to Power Save mode to maintain high efficiency over a wide load current range. The input voltage range is from 2.5 to 5.5V and the input current can be limited to a typical value of 3.1, 1.3 or 0.49A. It also supports maximum output currents of 1.2A (buck PWM mode) and 0.8A (boost PWM mode).
The output voltage is programmable using an external resistor divider over 0.8 to 5V. In addition the VSEL pin can be used to select a second output voltage level for applications that require a lower chipset core Voltage during standby.
The converter is available in the WLP-20-01 (wafer-level chip-scale) package measuring only 2.15 × 1.94 × 0.625mm.
View PDF