Features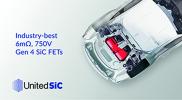 A New Approach to Circuit Breaker Design Using Silicon Carbide Switches - Nov 21
Mechanical circuit breakers can be low cost with minimal losses, but they operate slowly and wear out. Solid state versions overcome the problems and are becoming increasing viable as replacements at...
More details...
Power Electronics Europe News
Open-frame DC/DC converters reduce footprint
The 2W RTC2 series modules have a footprint of less than 1/3 of a square inch. The 2:1 inputs voltage ranges of 4.5 to 9V DC or 18 to 36V DC can handle up to 15 and 50V DC respectively for up to 100ms. The converters are insulated up to 3kV DC/1s, and reach efficiencies over 80%.
First to launch to the market is the 5V output version, with additional outputs to be released later. The modules are regulated at ±2% accuracy, with a tight line regulation of ±0.5% and load regulation of ±0.5%. Modules are short-circuit protected, and operate under natural convection at temperature ranges of -40 to 85°C (24V version) without derating.
The modules comply with the RoHS guideline and are certified according to IEC/EN 62368-1 and EN 55022/24. The MTBF is more than 2,000 x 10³ hours at 25°C according to MIL-HDBK 217F. The converters have a three-year guarantee, and samples are available via the company's distribution channels.
View PDF