Features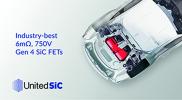 A New Approach to Circuit Breaker Design Using Silicon Carbide Switches - Nov 21
Mechanical circuit breakers can be low cost with minimal losses, but they operate slowly and wear out. Solid state versions overcome the problems and are becoming increasing viable as replacements at...
More details...
Power Electronics Europe News
600V power MOSFET lowers losses for telecoms and industry
According to Vishay Intertechnology, the N-channel MOFET reduces on-resistance by 30% compared with previous 600 V E Series MOSFETs while delivering 44% lower gate charge. This key figure of merit makes it suitable for power conversion in telecoms, industrial and enterprise power supplies, says the company.
This is the first in the company's fourth generation of MOSFETs, using superjunction technology. The SiHP065N60E has low maximum on-resistance of 0.065Ω at 10V and ultra-low gate charge down to 49nC. According to the company, the figure of merit of 2.8Ω*nC is 25% lower than the closest competing MOSFET in the same class. Low effective output capacitances Co(er) and Co(tr) of 93pf and 593pF, respectively translate into reduced conduction and switching losses to save energy in power factor correction and hard-switched DC/DC converter topologies.
The MOSFET is offered in the TO-220AB package, and is RoHS-compliant, halogen-free, and designed to withstand over-voltage transients in the avalanche mode with guaranteed limits through 100% UIS testing.
Samples and production quantities are available now.
View PDF