Features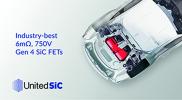 A New Approach to Circuit Breaker Design Using Silicon Carbide Switches - Nov 21
Mechanical circuit breakers can be low cost with minimal losses, but they operate slowly and wear out. Solid state versions overcome the problems and are becoming increasing viable as replacements at...
More details...
Power Electronics Europe News
Miniature SIP DC/DC converters save board space
The low-cost DC/DC converters are packaged in a miniature SIP and provide a selection of single and dual output models with I/O isolation levels ranging from 1.0 to 6.0kV DC.


Models operate from 3.3, 5.0, 12, 15, 24 and 48V DC inputs, providing single and dual outputs of 3.3, 5.0, 7.2, 9.0, 12, 15, 18, 24, ±3.3, ±5, ±7.2, ±9.0, ±12, ±15, ±18 or ±24V DC.


Efficiency is 86%, with I/O isolation of 1.0 to 6.0kV DC, and low noise operation. The MTBF (per MIL HDBK 217F) is more than 1.12Mhours. All models are approved to EN 60950.


The seven-pin SIP case requires little board space. The pin out is industry-standard and the case materials meet UL94-V0 requirements. Each model is specified for operation over -40 to 85°C with no heat sink required. Cooling is by free-air convection.


The converters can be used for board level power distribution applications.
View PDF