Features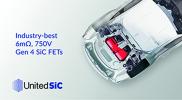 A New Approach to Circuit Breaker Design Using Silicon Carbide Switches - Nov 21
Mechanical circuit breakers can be low cost with minimal losses, but they operate slowly and wear out. Solid state versions overcome the problems and are becoming increasing viable as replacements at...
More details...
Power Electronics Europe News
Op amp maintains high precision in industry
Both zero-drift and zero-crossover technology are incorporated into the OPA388 op amp to maintain high precision across the input range for a variety of industrial applications, including test and measurement, medical and safety equipment, and high-resolution data-acquisition systems.
The architecture combines high input linearity and precision. The zero-drift technology eliminates temperature drift and flicker noise to attain the highest DC precision and dynamic error correction, says the company, while zero-crossover topology eliminates offset errors caused by common-mode limitations to achieve linear output and true rail-to-rail input operation.
According to the company, the zero-crossover topology eliminates the input offset transition region of traditional CMOS op amps, according to the company, assuring maximum linearity and minimal distortion across the entire common-mode input range.
The zero-drift technology delivers a low maximum offset voltage of 5µV, a typical offset voltage drift of 0.005μV/°C and a maximum input bias current of 700pA over the extended industrial temperature range (-40 to 125°C). This eliminates the need for over-temperature calibration.
Gain bandwidth is 10MHz gain which allows it to acquire a range of signal types and frequencies to support equipment from precision weigh scales to heart-rate monitors.
The low total harmonic distortion of -132dBc and voltage noise of 7nV/√Hz help produce a high-resolution signal chain for specialised applications such as programmable logic controllers, precision field transmitters and motion-control equipment.


The company offers support tools, including a reference design that demonstrates how to use the precision op amp to eliminate crossover nonlinearity in DACs. The reference design uses the DAC8830 precision data converter and REF5050 voltage reference, which combine to create a DC calibration system for precision applications used in wireless infrastructure and test and measurement.
The op amp is available in a 4.9 x 3.9mm SOIC.
View PDF