Features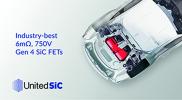 A New Approach to Circuit Breaker Design Using Silicon Carbide Switches - Nov 21
Mechanical circuit breakers can be low cost with minimal losses, but they operate slowly and wear out. Solid state versions overcome the problems and are becoming increasing viable as replacements at...
More details...
Power Electronics Europe News
PCIM Europe 2017 announces its conference programme
Power Electronics, Intelligent Motion, Renewable Energy and Energy Management (PCIM) Europe Conference 2017's conference programme covers recent developments in power semiconductors, passive components, thermal management products, energy storage, sensors and new materials.
Topics range from components, to drive electronics and packaging, to the final intelligent system.
There will be over 300 presentations by experts from international research institutes and companies, looking into the future of power electronics.
Keynote speeches will be based on "Evolution in Topologies as a Result of New Devices and Enabling Technologies", "The Smart Future of Power Electronics and its Applications" and "E-Mobility". Special sessions will focus on "Passive Components", "Capacitors" and "Smart Grid & Communication".
Two days before the official beginning of the conference, industry specialists will take part in seven seminars and eleven tutorials on topics such as "New Trends in Power Conversion for Very High Efficiency and High Power Density", "Design Challenges for High Frequency Magnetic Circuit Design for Power Conversion" or "High Performance Control of Power Converters".
A full day tutorial by Nejila Parspour from the University of Stuttgart, "Driving Electric - Power Train, Battery, Wireless Charging and Autonomous Driving", will look at electromobility and provide an overview of electric driving, looking at trends in research and technology. In particular, "Electric Drives of Hybrid and Battery Electric Vehicles" will be presented and the three battery technologies - Li-Ion, Li-Metal and Redox-Flow - will be explained.
Among the forums at the conference Pierric Gueguen, Yole Développement, will talk about "Status and Perspectives in the Power Semiconductor Business" and Richard Reiner, Fraunhofer Institute for Applied Solid State Physics IAF will address the subject "Monolithically-Integrated GaN Circuits". A third, exhibitor forum, informs visitors with 20-minute presentations throughout the three exhibition days.
power electronics sector. In addition, the PCIM Europe 2017 presents for the first time an e-mobility forum and offers visitors the opportunity to acquire leading know-how in all areas related to electromobility.
View PDF