Features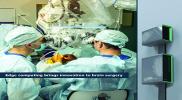 Edge Computing Leverages Modular Power in Scalable Micro Data Centres - May 2022
Edge computing is essential to realizing the full potential of artificial intelligence (AI), machine learning and internet of things (IoT). These technologies are being infused into every corner of...
More details...
Power Electronics Europe News
Gresham adds medically approved DC/DC converters from Polytron Devices
The TWA3/MHI and TWB3/MHIA5 series are approved for use in medical applications including equipment and devices used in close proximity to patients.
Both are supplied in the industry standard miniature DIP package and provide a regulated 3.0W output. The TWA3/MHI features a 2:1 wide input voltage range while the TWB3/MHIA5 Series has a wide 4:1 input voltage range. Both provide regulated single or dual output voltages over the range 3.3 to 24V DC or ±5 to ±15V DC and have input voltage options from 4.5 to 72V DC. The DC/DC converters can be supplied for through-hole PCB mounting or surface mount form for automated assembly.
Standard features include high efficiency up to 89%, operating temperature range -40 to 105°C (with derating), reinforced insulation, clearance and creepage distance 8.0mm/2MOPP, 5000V AC input to output 2MOPP isolation, 2µA patient leakage current, built-in EMI Class A filter, medical safety approvals including: UL, CE and ANSI/AAMI ES60601-1, EN60601-1 and IEC60601-1, ROHs Compliant to 2011/65/EU.
Typical applications for the DC/DC converters include diagnostic and therapy equipment, home equipment including nebulisers and blood pressure monitors, x-ray machines, surgical tools with lights, lasers and video microscopes, defibrillators, medical devices and equipment, portable ventilators, 3D laparoscope, pain-monitoring devices, aesthetic machines, medical analysers, medical aesthetic devices, medical endoscope devices, dental chairs and haemodialysis devices.
Medically approved DC/DC converters with wide input voltage ranges provide PoL power conversion for mains or battery powered medical electronic products.
Gresham Power offers industrial, medical, CompactPCI, rail and transportation, test and laboratory power solutions from a selection of manufacturers including Polytron Devices, EOS Power, Vox Power, Magna-Power, Advice Electronics and Digital Power.
It has experience of designing and manufacturing defence power systems and offers customers modified standard or full custom power supply designs if required.
It supplies a range of defence power products for land based or vehicle applications to complement its world-leading naval power systems.
View PDF