Features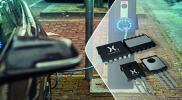 Proving the Ruggedness of GaN technology in Automotive and Demanding Application - issue 4/2020
To achieve the most efficient power conversion circuit requires the best semiconductor switch as the fundamental building block. Many people now consider gallium nitride to be a better switch than...
More details...
Linear voltage regulators operate at automotive temperatures
Designed for high reliability, high temperature applications, the CMT-Antares is Cissoid's latest regulator.
More details...
Power Electronics Europe News
MMIC amplifier claims a breakthrough Ku-band
Covering the 13.5 to 14.75GHz commercial satcom band, the 30W GaN MMIC, two-stage, high power amplifier will allow the satcom industry to achieve
higher power, more efficient Ku-Band designs, than the incumbent TWT or GaAs ones used today, claims the company.
The 50Ω MMIC is available in a compact, 25 x 9.6mm, 10-lead, metal/ceramic flanged package (CMPA1D1E025F), or as a bare die (CMPA1D1E030D). It operates at 40V VDD, and delivers satcom measured performance of 20dB linear gain at 42dBm average output power, while maintaining linearity under the -33dBc OQPSK signal, and with adjacent channel power at a drain efficiency of 20%. The amplifier is claimed to deliver higher breakdown voltage, power density, a
nd thermal conductivity than comparable Si, GaAs, or GaN-on-Si transistors, in addition to wider bandwidth performance.
View PDF