Features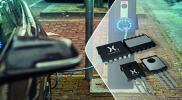 Proving the Ruggedness of GaN technology in Automotive and Demanding Application - issue 4/2020
To achieve the most efficient power conversion circuit requires the best semiconductor switch as the fundamental building block. Many people now consider gallium nitride to be a better switch than...
More details...
Linear voltage regulators operate at automotive temperatures
Designed for high reliability, high temperature applications, the CMT-Antares is Cissoid's latest regulator.
More details...
Power Electronics Europe News
Mobile solar panel power portable equipment
The lightweight, 5W, mobile photovoltaic panel has an integrated sun-angle adjuster for maximum solar exposure. The rated efficiency is up to 22%. The panel is constructed with monocrystalline cells that have a wide spectral sensitivity (300 to 1100nm) and can be used either indoors or outdoors. It weighs 60g and measures 223 x 143 x 2mm. The panels can be assembled in series and/or parallel to achieve a desired output power.
Rated at 5.39W (the maximum peak power), it is suitable for charging mobile consumer electronic devices as well as industrial ones. Voltage and current at the maximum power output are 5.5V and 0.98A, respectively. Typical applications include, among others, battery chargers for smart phones, tablets, and notebooks, backup power for UPS and wireless sensors, street/park lighting, emergency backup power, and independent green power stations.
View PDF