Features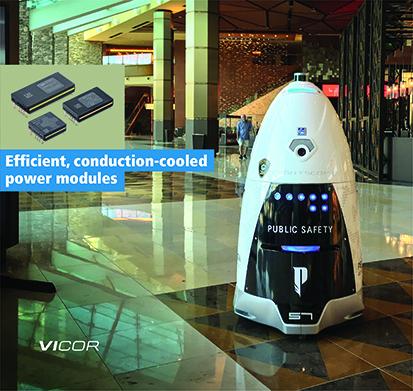 Knightscope's autonomous security robots patrol with superhuman acuity and detection prowess - May 2023
A fusion of innovative robotics, self-driving technology, vehicle electrification and artificial intelligence
More details...
AC/DC power factor correction module offers up to 1,512W
A full brick package developed by TDK-Lambda, the PF1500B-360, is for high voltage distributed power architectures
More details...
Power Electronics Europe News
Rugged energy storage capacitors suit harsh environments
The 225 EDLC-R ENYCAP capacitors are designed for harsh, high humidity environments. They are believed to be the first in the industry to offer useful life of 2000 hours at 85°C and meet the highest class of moisture resistance, the biased 85/85 1,000 hour test.
According to the company, the long useful life of the capacitors is double that of standard electrical double-layer capacitors. Their high humidity resistivity makes them suitable for use in a range of industrial, renewable energy, and automotive applications, including smart meters, handheld electronics, robotics, solar panels, e-latch door systems, and emergency lighting.
Available in eight small case sizes (from 16 x 20 to 18 x 40mm, the capacitors offer high power density to 4.1Wh/kg, capacitance values from 20 to 60F, and a maximum rated voltage of 2.7V. The RoHS-compliant capacitors have rapid charge and discharge performance and are available in through-hole versions.
Samples and production quantities are available now, with lead times of six weeks for larger quantities.
View PDF